There is so much to love about the holidays, and we know your presents are already sorted from our blog last month The Best Female-Led Businesses to Buy from this Festive Season so there's only one other thing to do, and that's plan your Christmas feast.
Whether you're entertaining this year, or delegated to taking a dish, this is your time to shine! Christmas might look a little different this year, but the love of food and family remains undoubtably the same.
From Summer seafood, to festive ham and all the mouth-watering sides in between we've rounded up an irresistible list of Aussie family-approved Christmas classics.
Starters
Focaccia with leeks, ricotta and honey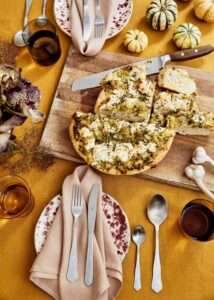 One thing we know is that Australians loved making bread during lockdown, we made sour dough from scratch and banana bread flooded our Instagram feeds, some studies even showed that baking is connected to positive feelings.  So why not up your bread game with this simple yet seriously impressive focaccia. Make sure you're using Australian honey, and to even go one better and #supportlocal by purchasing from an Aussie honey company (just quietly we produce some of the best honey in the world)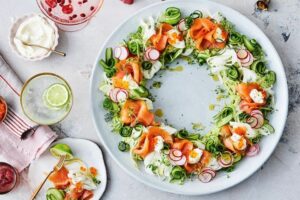 This quick and easy salmon starter doesn't require cooking and it's ready in just 30 minutes! And the best part is It pairs perfectly with your home-made focaccia! Make sure you invest in a mandoline to make sure your fennel is razor thin (did someone say early Christmas present?)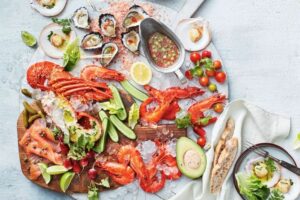 Who can resist a seafood platter? Australia has undoubtably the best seafood in the world so it makes sense it's hit our must-eat list this festive season. Load up your platter with prawns, oysters and lobster (cray fish is another great alternative), and make sure you put in the effort to buy your seafood fresh from either the fish markets or a local seafood delivery service. If seafood is the centre piece you want it as fresh and the best quality you can find.
Mains
Roasted Leg of Lamb with potatoes and mint salsa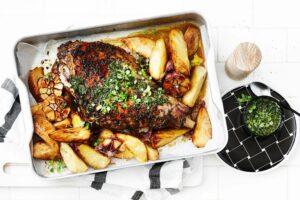 No one does lamb quite like Matt Moran. Matt is an Aussie chef with a string of restaurants Sydney wide, and as the Stella team are NSW based, we know him best for his restaurant Chiswick which is located in both Woollahra and the Art Gallery of NSW foyer. Matt's lamb recipe is the signature dish and it's renowned as being one of the best, it does however only serve four so we've linked another one of Matt's lamb leg recipes here so you are covered whether your family is big or small. Either way you'll have a crowd pleaser when you serve up this mouth-watering dish come Christmas day.
Glazed Christmas ham recipe with bush herbs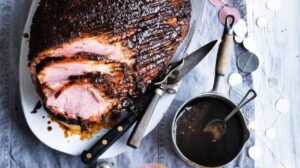 What better way to celebrate indigenous ingredients than at Christmas? Chef Adam Liaw has us covered with his simple glaze of native lemon and aniseed myrtle for a very Australia Christmas ham. Wondering where you might get these herbs? You can shop them in advance via Herbie's Spices. Don't forget the leftovers come boxing day, we've included an eggs with asparagus, grilled ham and onion jam breakfast recipe here for you too.
Three Blue Ducks' barbecued whole fish with lemongrass and lime leaves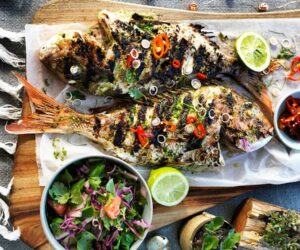 You'll be reeling in the compliments with this flavour-packed snapper recipe. With hints of ginger, garlic, and loads of citrus this summer snapper is the ultimate addition to your other meat mains.
Dessert
New Zealand has tried to claim pavlova as their own for many years now, so just to make sure we were hitting the quintessentially Aussie Christmas brief we found this pavlova and trifle recipe that is an absolute showstopper and the best part is, you can get ahead of your Christmas lunch prep and you make it the night before!
The ultimate cheese board by Lia Townsend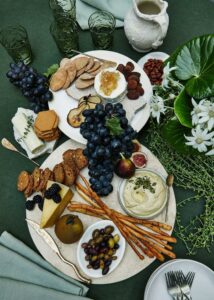 Not everyone has a sweet-tooth so putting together a platter of your favourite cheese's is another amazing option as a Christmas dessert. Below is a general guideline for ingredients, but you can get as creative as you like.
3 types of cheese – soft cheese, hard cheese, and a surprise cheese. (I call this a surprise cheese because it is where you can surprise and delight your guests with something unique, seasonal, or interesting. I opted for Le Dauphin Petit Double Crème, Pyengana Clothbound Cheddar and Holy Goat Skyla here.)
Peach, raspberry, earl grey and gin punch bowl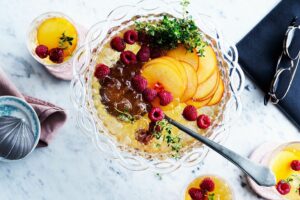 Did someone say Christmas cheer? In our books, cocktails are dessert too, (duh fruit) so let the good times bowl with this fruity, fresh concoction that you can pre-make the morning of and pop in the fridge to cool.
Now that we've sorted your Christmas menu there's nothing left to do but eat like queens and hug your family. From ours to yours, Merry Christmas!